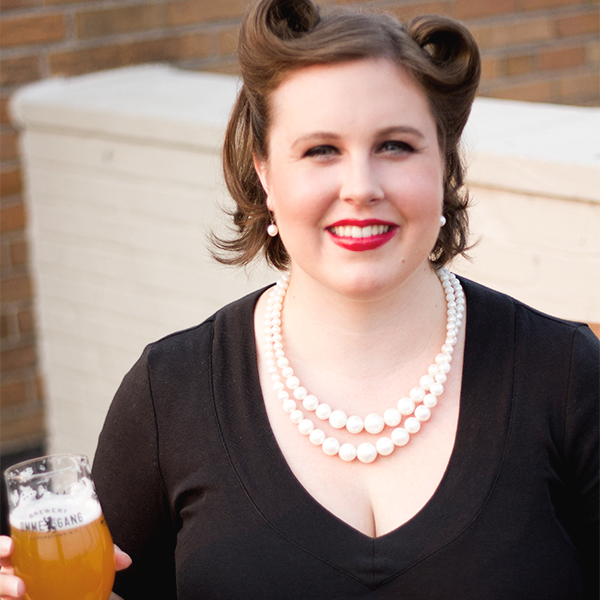 Meredith Megan Williams
Proprietor, Meredith Rebar Williams (Certified Cicerone©) has a passion for brewing and creating unique, and specialized events around beer. Meredith began her career managing and producing special events and concerts at the Abbey Bar as part of Appalachian Brewing Company in Harrisburg, PA. She  was also part of the Tasting Room event team that opened the new Troegs Brewing Company location in Hershey, PA.  After moving to Philadelphia to be a part of the burgeoning beer scene, she joined Origlio Beverage as a Corporate Communications Specialist, writing articles for the seasonal publications, Draught Lines and Heady Times, developed background knowledge of beer wholesaler operations and craft beer sales and how to incorporate social media to develop business growth. In addition to running HBE she is brewing professionally at Saint Benjamin Brewing Company, chairs the Philly Loves Beer Education Committee and is a founding member of the Philadelphia Chapter of the Pink Boots Society.
---
Home Brewed Events
Home Brewed Events has grown into a noted Philadelphia-based event management and beer education leader. Founded in 2013, HBE's team has collectively over 15 years of event management and beer experience. HBE specializes in producing tailored, high-end events to fit your needs, everything from small corporate team building events to large-scale festivals. Home Brewed Events works with local businesses and nonprofits to advance beer culture and artisan food and beverage scene.
Some of Home Brewed Events Signature events are:
SEED
Annual Vegan Food & Beer Fest benefitting the Humane League.
BUZZ
Annual coffee, beer and spirits festival benefitting the Free Library of Philadelphia.
Noshhh
A local craft food and drink vendor showcase with a swanky, speakeasy-style.
Noshhh: After Hours Series
Learn about different beer, cocktail, food items and beyond with a specialty workshops with past and present Noshhh vendors.
Powel & Physick House Programs
A series of craft beverage related events to raise money and awareness for the two historic sites.
Local Libations Garden
A pop up market and a series of beer gardens at the Piazza at Schmidt's Commons and other locations in and around Philadelphia.