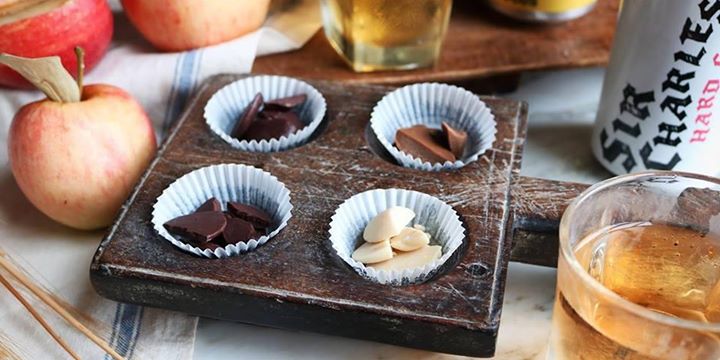 This Father's Day, celebrate with your dad, treat yourself if you are a dad or just have a fun afternoon with your bestie at this tasting!
Learn how to pair beer with everyone's favorite sweets: chocolate! Join brewing expert and beer educator Meredith Williams of Home Brewed Events and Kevin Paschall and Laurel Burmeister of America's oldest candy shop, Shane Confectionery. During class, Meredith will be brewing a beer with cocoa nibs that will be available for pickup at a later date. There will be light bites available from Liberty Kitchen.
During class: sample 4 handcrafted chocolates perfectly paired with a selection of 3 beers and 1 cider.
Shane Confectionery is the oldest continuously operating confectionery in the United States, with candy made on site since 1863. The Shane family took over the business in 1911, installing elaborately carved woodwork, stained glass and curved windows to showcase the chocolates and confections crafted in the kitchens above. In 2010, the business transitioned to the Berley Brothers, owners of the nearby Franklin Fountain, who embarked on a meticulous restoration of the building and business. Candies and bean-to-bar chocolate continue to be made on-site, with an emphasis on locally-sourced ingredients, seasonal specialties, and old-fashioned quality.
In 2014, Shane began producing their own chocolate from the raw cacao bean as part of their passion for fine flavor and commitment to responsibly sourced cacao beans from across the globe. Shane Chocolate Works strives to craft the best chocolate using techniques that both innovate and honor the storied confectionery traditions of the past. Shane Chocolate Works is committed to the sustainability of cacao agriculture through sourcing only ethically traded cocoa which demands a premium paid to farmers. In the Chocolate Cafe, patrons can experience the history of chocolate through taste, and compare the rich flavor variations of cacao by region. They offer a wide variety of drinking chocolates, ice creams, chocolate bars, and bon-bons, with an ever-rotating selection of origins and flavors and a commitment to quality and history.